The Streak Mode is a new mode on WWE 2k14 where you can choose a superstar to fight the Undertaker for the streak, if you beat him with certain superstars such as Diesel, King Kong Bundy, Shawn Michaels ect. You earn pictures from their WrestleMania matches goes the same for any other superstar he fought at WrestleMania. You can also be the Undertaker and compete in a mode where you keep fighting superstars and if you have to pin or submit them. If they tap out or get pinned then they are eliminated it's a Gauntlet Match that you play as the Undertaker and try to go as far as you can. So you can Defend the Streak or Defeat the Streak and make him 21-1. You can also see how good other peoples stats are online and see if you made it on the Leaderboard.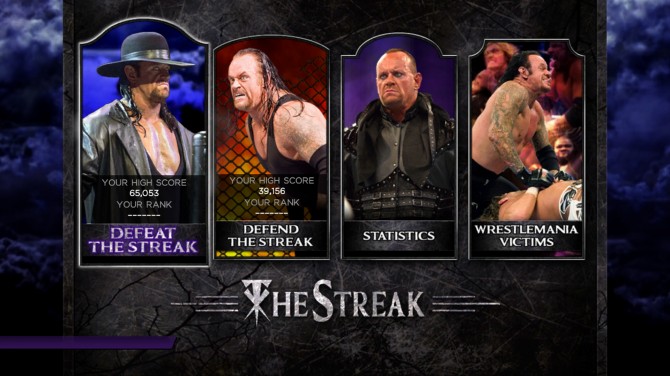 Ad blocker interference detected!
Wikia is a free-to-use site that makes money from advertising. We have a modified experience for viewers using ad blockers

Wikia is not accessible if you've made further modifications. Remove the custom ad blocker rule(s) and the page will load as expected.