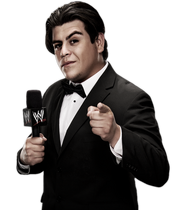 Jesús Rodríguez (born February 17, 1986) is a Mexican American professional wrestler, ring announcer and wrestler and manager commentator currently signed to WWE under the ring names Ricardo Rodriguez and Elocal (formerly El Local). After wrestling on the independent circuit in 2006 as Chimaera, Rodriguez joined WWE on August 20, 2010 serving as the ring announcer of Alberto Del Rio until August 5, 2013.
WWE Games
Edit
Rodriguez appears as a non-playable character (NPC) in WWE '12, WWE '13, and WWE 2K14. He can be playable using a save editor.
Ad blocker interference detected!
Wikia is a free-to-use site that makes money from advertising. We have a modified experience for viewers using ad blockers

Wikia is not accessible if you've made further modifications. Remove the custom ad blocker rule(s) and the page will load as expected.